HX Auctions presents promising fourth collection
18 July 2022
Nine very talented three-year-old mares form the collection of the fourth edition of HX Auctions. The horses all come from Stal Hendrix's own breeding and rearing, which has laid a solid foundation for their future. Given their own talents and strong pedigrees, the HX Auction horses are very promising.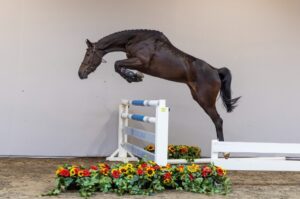 The selection team consisting of Paul, Timothy and Michel Hendrix selected these nine mares, who are sired by stallions like Verdi, Nekton, Gaspahr and Cape Coral RBF Z. "We are delighted to have once again been able to present such an interesting collection. These nine mares have all been bred from valuable damlines and they have a great future ahead of them", tells Paul Hendrix. "They are typical Hendrix horses: they have good conformation, good movements, are light-footed and they jump with good reflexes and scope. We are confident that these horses will find their way into the sport."
The collection can be found here and bids can be made from Friday the 29th of July and the lots close on Monday the 1st of August from 7.30 pm. "Information, photos and videos of the horses can be found on the website. Our entire team is available for further questions or information about the horses," says Paul Hendrix.