HX Auctions 'Summer edition' presents promising collection
19 July 2021
The first edition of HX Auctions, an exclusive online auction for three-year-olds out of Stal Hendrix's breeding program, turned out to be a success last year and now gets a follow up. Biddings for this 'Summer edition' are open from the 30th of July until the 2nd of August. Paul Hendrix and the rest of the team have high expectations for the second collection, consisting of 11 future talents.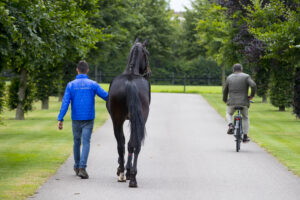 From today, the second collection of HX Auctions is published on the website www.hxauctions.nl. The three-year-olds all come from the own breeding and rearing of Stal Hendrix and they are sired by proven sport and breeding stallions such as Verdi, Zento, Falaise de Muze and Entertainer as well as upcoming progenitors such as Cape Coral RBF Z and Gaspahr.
High expectations
The 'Summer edition' of HX Auctions offers the opportunity to invest in the future by purchasing one of the strictly selected jumping talents. "We are pleased to offer such an interesting collection of three-year-olds", tells Paul Hendrix, who is responsible for the selection together with son Michel and cousin Timothy. "These horses all represent first class damlines and also with their own qualities they make it very clear that they all have a great future ahead of them. For example, we have high expectations of the very talented Verdi offspring Noverdi H.S., which was bred out of the well-known Lottie-/Zottie-damline. Also the two Cape Coral RBF Z offspring No Cate JDV, which is closely related to the extremely successful Junior showjumper Dagma, and the scopey Napoleon are horses for the future. And what to think of the two Entertainer offspring Nightingale HX and Nando R, which show their great potential time and time again and jump with quick reflexes. Our collection includes future prospects that definitely can grow into horses for top level classes as well as horses that are suitable for every rider."
Great potential
All horses are related to international showjumpers. Such as the special Gaspahr son Nirvana G and the athletic Nanina H (s.Jacadello), which were both bred out of international jumping mares. "It's part of our strategy to select horses with good conformation, performance genes and great potential for the sport. We have high hopes for their future and are certain to see at least some of them in the bigger classes one day", concludes Hendrix.