Going once..
12 januari 2017
Published in DSHS Magazine 2016
The experienced Dutch Sport Horse Sales auctioneer, Koen Olaerts, is a well-known figure at horse auctions. I ask him when he had his first taste of being an auctioneer. Olaerts replies that his first experience was a dozen or so years ago: "The real auctioneer could not attend, and they asked me to do it. I sort of rolled into the job."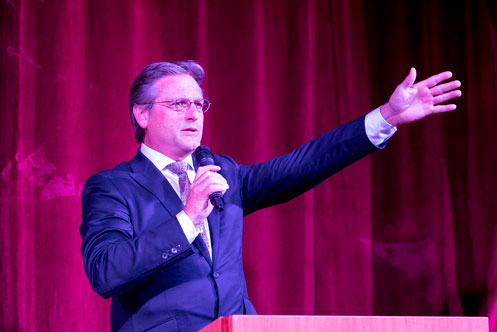 His first auction was Horse Auction Belgium, a BWP auction. "It was quite exciting, that first auction. I really had no idea what to expect." After that he was asked by various people to be auctioneer for them, and that set the ball rolling. He eventually ended up at the DSHS. He was, at the time, asked by Neil Jones to be auctioneer at the DSHS, after Jones had seen him in action during Horse Auction Belgium. In reply to my question as to whether he had immediately accepted, he replies "Yes, of course! To be an asset to the auctioning at one of the top auctions in the world is a real honour. The auction radiates confidence and I am grateful that they also have confidence in me."
He auctioneers in addition to his 'main business', a young jumping horse mediation and trading yard, called OK Horse Trading. He makes time for exclusive auctions and does about 4 or 5 per year. He already has one hundred or so behind him. Each auction has a different mood, and the mood at Dutch Sport Horse Sales is definitely good, according to Olaerts: 'The mood is friendly and businesslike, but there is enough atmosphere around to increase the number of impulse purchases.' According to Olaerts only once you get the people who just came to watch so far that they buy a horse, have you done well as an auctioneer. The percentage of impulse buys must be around 25%, only then are you a good mood-maker and are you responding well to people's emotions. The enthusiastic Belgian is certainly good at creating a good mood. During the auctions he throws in his English, German, French and Italian vocabulary, in order to create more atmosphere as well as involvement.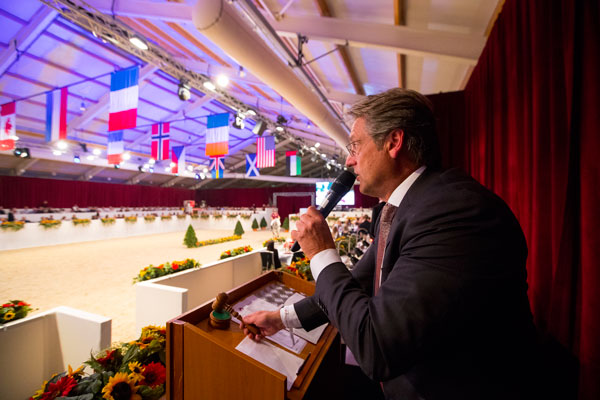 "The penalty shot must score"
In reply to the question how he sees the mastery of auctioneering he says: "Like a ball that is lying ready for a penalty kick. I must kick it in that evening, it must not miss. The penalty shot must score.
Organising an auction costs a lot of effort and money. Once everything is ready, it all lies in my hands and I must not then miss. The better everything regarding clients, music and horses is arranged by the organisation, the easier it is for me to drive the price up.' During the last edition of the Dutch Sport Horse Sales the Belgian definitely scored with the penalty shot, with the absolute auction star Fame VDL fetching 380,000,- euro. The star of the DSHS as wel as for Olaerts himself.